16 Sep

Acting Bishop John Miller's Resignation

Dear Upper Midwest Family, 

With a mix of gratitude and sadness, we announce the resignation of Acting Bishop John Miller. He has served our Diocese faithfully and at great personal sacrifice for the last 14 months. Bishop John is stepping down as Acting Bishop at the end of September.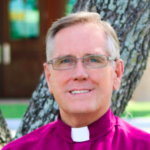 Bishop John wants to be clear that his decision is not related to the forthcoming release of the Husch Blackwell report. He accepted the position of Acting Bishop in July 2021. At that point he understood that his leadership tenure would only last for a few months and would primarily involve filling needed episcopal duties such as confirmations and ordinations. Bishop John has gone far beyond that to serve our community during this difficult season, investing countless hours as Chair of the Bishop's Council and serving as a wise pastoral leader for diocesan staff and clergy. For personal medical reasons and due to family commitments, he has submitted his resignation to the Province. We are thankful for his leadership, investment, and spiritual care during his tenure. His presence has deeply blessed so many of us who worked closely with him.
"It has been my honor and privilege to serve the dear people of God in the Upper Midwest Diocese over the past 14 months," Bishop John said. "Thank you for your prayers, your kind words of encouragement, and your steadfast faithfulness in Christ Jesus. May He continue to shower your Diocese with mercy and grace as you face the challenges of the days ahead. You will remain in my prayers, for I praise God for the gift of you and the ministry we share in the Gospel. As the Apostle Paul exhorted the Church in Ephesus, '…be strong in the Lord and his mighty power' (Eph. 6:10)."
This transition comes at a critical time for our Diocese. We have communicated with the Province about our need for leadership in the event that the investigation and decision-making process isn't complete by September 30. Of course, we are praying for a productive conclusion before then. The Province has told us that they are working to identify a potential new Acting Bishop who could step in as necessary as we move toward resolution for Bishop Stewart. 
The Bishop's Council continues to serve as the ecclesiastical authority of the Diocese, providing organizational leadership, vision, budgets, and more during Bishop Stewart's voluntary leave of absence. We are committed to proactively learning and growing through this process, with humility and openness to all the Lord desires to teach us.
Grace and Peace, 
The Bishop's Council of the Upper Midwest
Voting members:
Acting Dean Paul Calvin
Acting Dean Michael Flowers
Acting Dean John Mackett
David Stewart
Alyssa Tennison
Helen Buchanan
Fr. Matt Arndt
Dr. Barbara Gauthier
Fr. Steve Williamson