20 May

Bishop's Council Transition of Leadership

Dear Diocese of the Upper Midwest, 

On April 30, Rev. Alex Cameron was elected as the next Bishop of the Diocese of Pittsburgh. Pending the consent of the Anglican Church in North America's College of Bishops in June, Bishop-Elect Alex will be consecrated on Saturday, August 6, 2022. 

Bishop-Elect Alex has served as Chair of our Bishop's Council since last July. We are immensely grateful for his leadership, wisdom, and the innumerable hours he has sacrificially given to our diocese.


While we are saddened by Bishop-Elect Alex' departure from our diocese, we send him and his family off with our prayers, and deep gratitude for the many years they have served here in the Upper Midwest. Please pray for the Lord's strength and protection over Bishop-Elect Alex and his family as they transition into the Diocese of Pittsburgh and the Office of Bishop.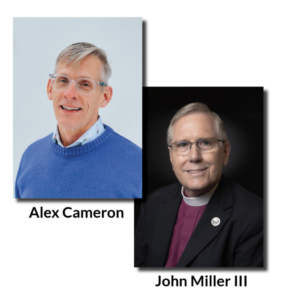 Acting Bishop John Miller was elected as the new Chair of the Bishop's Council, effective Monday, May 16th. We are immensely grateful to Bishop John for his continued and faithful service to our diocese. Since July, Bishop John has provided pastoral care, served as a liaison between the Diocese and Province, and performed specific episcopal duties. As the Chair, he will also oversee the meetings of the Bishop's Council and collaborate with the Deans to set priorities. You can learn more about Bishop John in our interview with him last October here. 
"Despite the challenges we continue to face in the Upper Midwest, I have been deeply blessed serving the clergy and laity of this diocese," Bishop John said. "As we await the outcome of the investigations by Husch Blackwell and Telios, I pray that each of you will remain strong in the Lord Jesus and his mighty power."
We ask for your prayers for the Lord's guidance as we strive to serve with grace. We seek the Holy Spirit's wisdom, truth, and love for our diocese. 
Yours in Christ, 
Brenda Dumper
Lay Canon to the Ordinary