08 Sep

The Ministry of Beauty: Interview with Abigail Ebengsberger

Interview by Bonnie McMaken, Editor of Leaders' Latest

Hi Abigail! So you're leading worship arts at Immanuel; that includes music, drama, liturgy, and visuals. Tell us about your creative

background.
I grew up in a musical family in Nashville–both of my parents are worship leaders and songwriters. I thank God for the love of music and worship that this instilled in me. I also started doing theatre at a young age, pursued theatre acting as I grew up, and completed my MFA in Acting, where I received deeper training in storytelling.

What about your role serving the church do you love the most and why?
I love seeing the Lord's love for His church. Especially planning for liturgy and worship with our staff, I see the gap between what we do, and what the Lord does. He meets us in our gatherings in a way that is more than the sum of the parts.

What led you to Chicago and to the Upper Midwest Diocese?
After grad school, I moved to Chicago to pursue acting in theatre. Once here, I quickly got connected to Immanuel Anglican because my sister had attended there.  Soon I got to know more of the Diocese, too —especially in Gregory House leader training and learning from Katherine Ruch in the Easter Vigil preparations at Church of the Resurrection. Through these experiences, the Lord gave me the gift of not only a church to belong to, but an invitation to receive the Diocese as my spiritual family.

Immanuel is known for a beautiful Lessons and Carols service during Advent. How do you find creative inspiration for that service each year?
I love digging into the story of the Incarnation with other leaders and artists in the church, and quilting together all kinds of artistic expression to help us treasure the beauty of Jesus.

We try to incorporate arts/expressions we might not regularly have (ie dance, collaborative art, choral/ensemble singing, and unique instruments). We like to say this service is our "namesake feast" since our church is named Immanuel, and Lessons and Carols embodies the longing for and celebration of Immanuel, God with us.

Tell us about your worship song writing process.
For me, writing starts with something that is happening in my own heart, and then discerning if the song can be shaped into something for congregational worship. I love to collaborate, and have especially enjoyed co-writing with a fellow female worship leader/songwriter in our Diocese, Bonnie McMaken.

Once I have a complete draft of a song, I love to workshop it with our music team and with our congregation. Each song is different, and I learn a lot about what actually makes a song function, especially for congregational singing.

What makes writing music for worship special? What makes it challenging?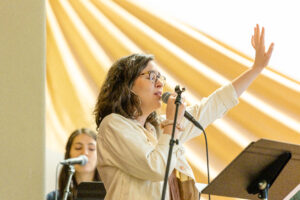 The worship of the Bride is so dear to me in general, and Immanuel is the church that has been my spiritual family and fellow pilgrims in Chicago. So, I can write knowing the people, praying, "Lord, what do we need to sing together? How can we respond to You?"
One of the biggest challenges is the tension that can arise between creative ideas and what will actually serve congregational singing. Ultimately, the goal is to usher the church into lifting our hearts to God together, so I am looking to craft something fresh and beautiful that remains simple and accessible enough to elicit that unified voice of the church.