05 Apr

Welcome to the First Issue of the News Roundup

Welcome to the first issue of the Upper Midwest Anglican News Roundup! This monthly email aims to provide you with brief recaps of current news from the Diocese, including the Bishop's Council, Task Forces, and more.

You'll continue to receive our regular e-newsletter, Upper Midwest Anglican Stories (UMD Stories). You'll still find encouraging highlights there from different churches, events, and ministries where the Lord is on the move.

Subscribe here to receive our News Roundup, UMD Stories, and other updates from the Diocese.
-Dawn Jewell, Communications Director

Task Force Updates
In February, Bishop Stewart communicated about two key task forces at work for the Diocese this year:

The Clergy Disciplinary Task Force, led by Bp. Martyn Minns, seeks to process and bring to conclusion any concerns or other matters involving diocesan deacons or priests that arose during Bp. Stewart's leave of absence.

The Constitution and Canons Task Force, led by Chancellor Charlie Philbrick, is working to develop revised Canons. We are thankful that the American Anglican Council is consulting with the Task Force again on the proposed Canon revisions, as AAC did for the Constitution. Laity and clergy from across the Diocese will have opportunity to review and provide feedback before the final revisions are ultimately voted on by delegates at the Diocesan Assembly.

In March, the Diocese approved a Misconduct Prevention Task Force, chaired by Bishop's Council member Helen Buchanan. The focus of this task force is to research best practices and guidelines that help prevent misconduct, protocols for reporting concerning behavior, and safeguarding the most vulnerable in our churches–the elderly, and the mentally or physically challenged. The scope of the Task Force's work will extend beyond the prevention of sexual misconduct to include bullying, harassment, and more.

Each task force will include representatives from each of the three deaneries, both lay and clergy, men and women, and will consult on an as-needed basis with outside experts.

Administrative Assistant

Addie Gannon is our new part-time diocesan administrative assistant. Addie is helping Brenda Dumper to plan retreats, deanery visits, ordination and confirmation services throughout the Diocese, and other administrative responsibilities. She hails from Ohio and also works as Production Manager for Church of the Resurrection (Wheaton). Addie is an accomplished violinist who teaches violin and viola, and enjoys discipling youth.
Communications Assistant
Bonnie McMaken is our new part-time diocesan communications assistant. She is working with the communications director to manage the creation and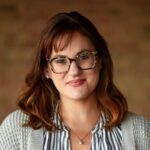 production of the newsletter, oversee clergy updates, and edit other communication tools. Bonnie has worked as a freelance editor for companies like Christianity Today and Crossway Publishing for more than 15 years and loves creating beauty and order, whether it's in the written word or in her songwriting. She is the Worship Arts Pastor at City of Light Church in Aurora, where she lives with her husband, Fr. Trevor, and their four children in an old bungalow they've slowly been restoring.
Thank You, Bishop Minns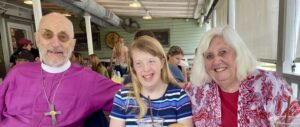 On April 14, Bishop Martyn Minns' season of supporting the Diocese over the past six months will draw to a close, after which time he's looking forward to traveling internationally with a significant number of family members in celebration of his 80th birthday! Bp. Martyn has shared a wealth of ministry and life wisdom throughout his time in the Upper Midwest, and has been a valued friend and ministry partner. He, his wife Angela, and their daughter, Rachel, will be greatly missed.
Update: On April 3, Bp. Stewart requested that the Bishop's Council bring Bp. Minns on as a consulting bishop, which the Council approved. Bp. Minns will focus on completing the work of the Clergy Discipline Task Force and consult with Bp. Stewart as needed. 
Provincial Investigation
Recently, we have received questions about the re-release of the Husch Blackwell Report and the release of the Telios Report. Both of these reports are under the Provinces' purview, and we continue to await news from the Province regarding these reports.