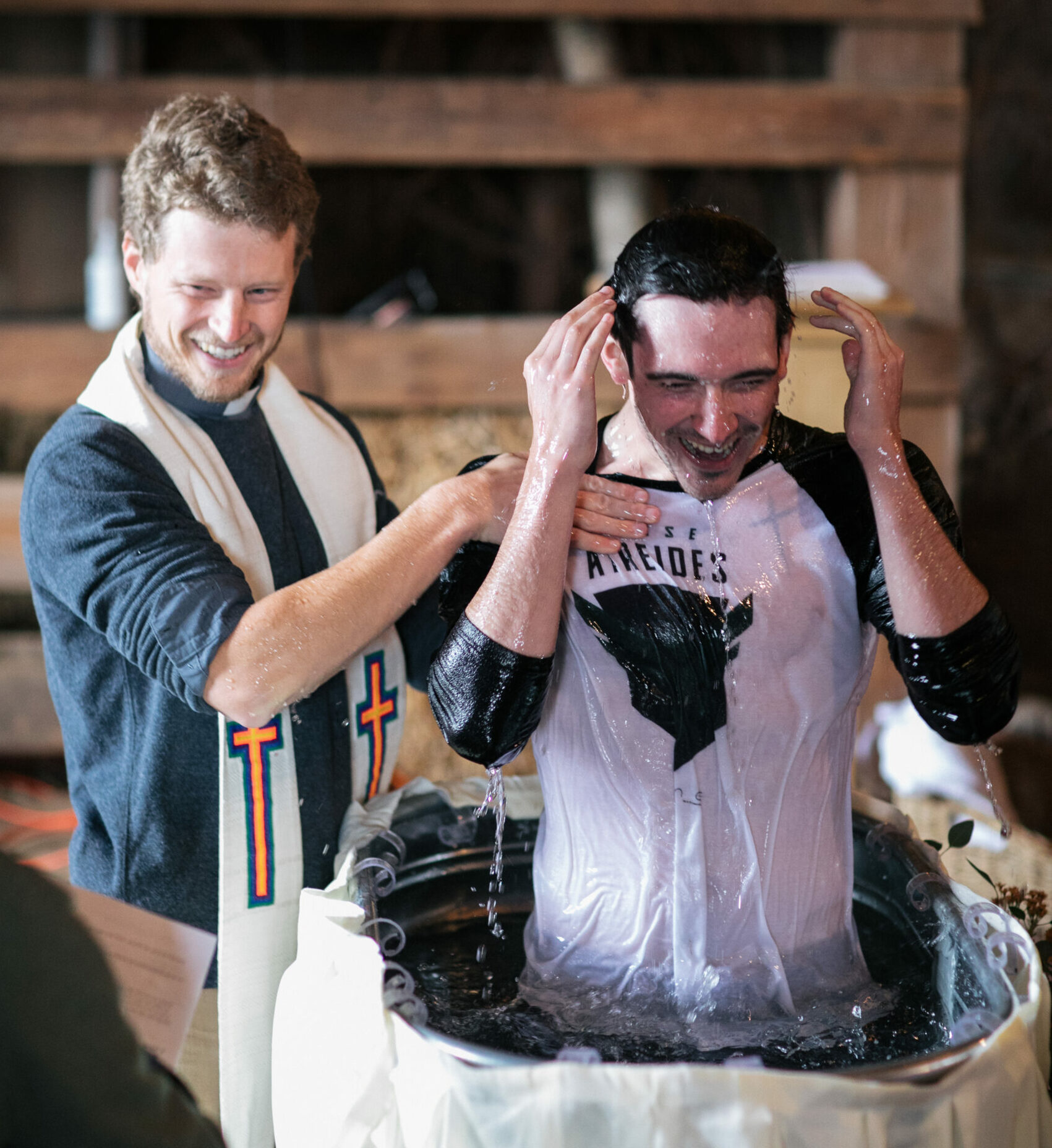 12 Dec

Prayer, Revival, and a Restored Norwegian Barn

Shared Worship Bonds Three Wisconsin Churches as They Prepare for Harvest

About a month ago in rural Christiana, Wisconsin two churches gathered for a joint All Saints service in a classic Norwegian-built barn. Christ Church Madison and Immanuel Whitewater share a bond of prayer and hope to reap a rich harvest in the state of Wisconsin.

Amid banjo music, dancing children, and twinkling lights in the rafters of the barn these congregations welcomed two infants and one adult into the household of faith through baptism.

Jens Notstad a priest in the Diocese of the Upper Midwest since 2015, spent his childhood on the Notstad family farm—home to the beautifully restored barn. He left Wisconsin to become an engineer and returned a pastor after joining a Greenhouse Movement campus ministry at Northwestern University. Fr. Jens is now the chief pastor of Immanuel Whitewater.

Scott Cunningham of Christ Church Madison is new to the state. His team planted Christ Church in 2018. "When Scott moved up here we made a point to connect," Jens says. However, this partnership of prayer is shared between not two, but three southern Wisconsin rectors. After their initial meeting, Scott and Jens began to pray together regularly with Fr. Matt Arndt from Bread of Life Anglican in Madison.

Bread of Life has been a supporter of Jens' campus ministry and a guest in the Notstad barn since 2012. "There's a foundation of shared worship between us without any real agenda," Jens says, "How much of it can you really take credit for? It's the Holy Spirit."

In 2020, Bread of Life was gifted a church building and it was Fr. Matt's turn to host. The three churches worshiped at their first three-way service on Maundy Thursday 2021. "It's funny the way the Lord works by combining desire and necessity," Jens says. This fall, Scott asked Jens to preach at CCM's All Saints service, and the idea for the joint barn service arose.

As far as Jens, Scott, and Matt are concerned, God's got a lot planned for Wisconsin. "The three of us are really just catching up to what the Lord is already doing," Jens says. "Recently, I've felt the Lord is saying to me, 'Others have sown before you. Step into the harvest—let's go!"

This article was first published in the November issue of  "Upper Midwest News".  Sign up below to receive diocesan news in your inbox.