02 Jun

Reproducing Churches in Word and Sacrament: Interview with Cn. Molly Ruch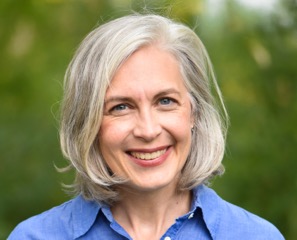 For two decades Molly Ruch has steadfastly pursued the Lord's leading to reproduce Anglican churches in word and sacrament. After years of prayer, she and her husband Christian planted Church of the Cross in the Twin Cities, Minnesota, in 2003, out of Resurrection. Today Molly serves as our diocesan Canon for Church Planting and Director of Always Forward Institute, part of the Always Forward initiative of the ACNA. Dawn Jewell, our Communications Director, recently interviewed Molly to debunk frequent misconceptions of church planting. 
How have you seen the Lord at work in our diocese this last year?
I think there's an openness in our unchurched neighbors to have significant conversations. We've lost some cultural frivolities and people are willing to talk about deeper things. I think we're in a key moment for the Gospel all around the country.
I've also seen much creativity resulting from COVID restrictions. Dn. Chad and Kirstin Magnuson announced their church name at an outdoor party with hayrides. Fr. Josh and Bryonie Moon in Crystal, Minnesota, got an outdoor screen and started hosting regular movie nights in their front yard.
What are some common misperceptions about church planting?
Someone may think, "We just need to get communion supplies and sound equipment and we can start next week." But you can't just go out and start a church, whether it's Anglican or any church. We're wanting to launch churches that will have the capacity to reproduce. If you just start a service, it'll last for a little while, but it may never reproduce or reproducing will be a challenge.
How is church planting like being an entrepreneur?
It's less like being an entrepreneur and more like being a local missionary. God is the entrepreneur and we've been hired by him. He's orchestrating this new work. We're involved in missions when starting a new church. Everyone involved needs to be obedient to a call, not just the pastor.
Can anyone plant a church?
We want people to pray about doing a long-term missions experience in helping to start a church. In our plants we've seen families and singles make a significant relocation as part of this long-term missions effort. 
The Book of Acts shows a setting apart and a commissioning by the early church. You don't just decide for yourself that "I'm going to start a church." It's the Church starting a church. So, the diocese responds to the call and commissions people for the work. God puts together a team.
Is there a template for church planting?
It's a template, but it's not formulaic. You have to look at the area the church is being planted in, the context, and the missional opportunity there, as well as the person leading the charge. 
Greenhouse Church, with Fr. Nate Beasley at Cornerstone Anglican in the West Loop neighborhood of Chicago, is moving in similar ways as Church of the Incarnation in Appleton, Wisconsin, with Dn. Chad and Kirstin Magnuson. They're both starting a church, not a worship service, putting in a lot of groundwork, and building structure first. Those two churches are completely different contexts and their leadership personalities are different. It's not formulaic. 
My work in the diocese is to walk alongside a church planter to help determine the benchmarks for a particular church to be successful in a particular context.
Why is training important in sacramental church planting?
At the Always Forward Institute, Cn. Dan Alger and I have developed a training that is specifically Anglican, sacramental, and liturgical. An Anglican church works in multiple places–in a nursing home or a suburb; our training is for different contexts. Our mission of planting in revival, word, sacrament, and spirit provides a unity among the growing diversity of opportunities in our diocese. 
For the diocese, we offer an assessment and evaluation process for church planters, not check marks but questions like, "What do we need to do to make you as ready and as healthy as possible before we start planting?" "How do we identify areas where you'll need a team member for something you don't do well from the beginning?"

For example, my husband Christian and I didn't have any kind of musical background. And we needed someone with more evangelism gifts. The Lord brought us a skilled musician and an evangelist.
I walk alongside, ask deeper questions, analyze how this can work best, and what kind of support you need from us. 
What lessons did you and Father Christian learn firsthand?
It's a lot of work at the beginning, like having a baby, but it's also for the long haul. You need other people to help guide you, to say when you're overdoing it. We don't want any church leader burning out. 
Christian and I learned that the hard way. We weren't paying enough attention to our team to see how they were getting tired from their investment. It's not just about the planter, but about the whole team. 
It's easy to start thinking that it's so dependent on your work. Yes, you need to be obedient of what God asks, but God is building this church. Usually when we loosen our control, God provides.
We require all our church planters to have a coach who knows how to build needed systems in a church plant and how to scale them. A coach is often able to help you know when you need to slow down and when to push through.
How do you hope our diocese grows stronger in church planting?
I really want to see every church in our diocese start another church in the next five years. I don't think that's an impossible goal. We have very healthy churches in our diocese. What we need to do together is to pray to the Lord of the harvest for the workers. 
I'd like to see representatives from every church in our diocese at the church planting training, hosted at the Cathedral, September 13 to 16. Even if a church doesn't know when it may reproduce, this is a helpful preparation.
– – –
Join us for a four-day intensive Church Planting Training led by Cn. Molly Ruch and the Always Forward Institute, September 13 to 16, 2021. Learn more about this unique opportunity to gain insights on reproducing Anglican churches here.